How to List your Chess Tournament in ChessStream
ChessStream has a list of Chess Tournaments in North Carolina in nice format with clear start date and end date, it has adding to your calendar button, combine tournament type column, and link to the tournament website. Google search engine really likes it! This following screenshot is if user search/type "NC Chess tournaments" in Google, it will show the table of chess tournament on their snippets. They call it Google's featured snippets.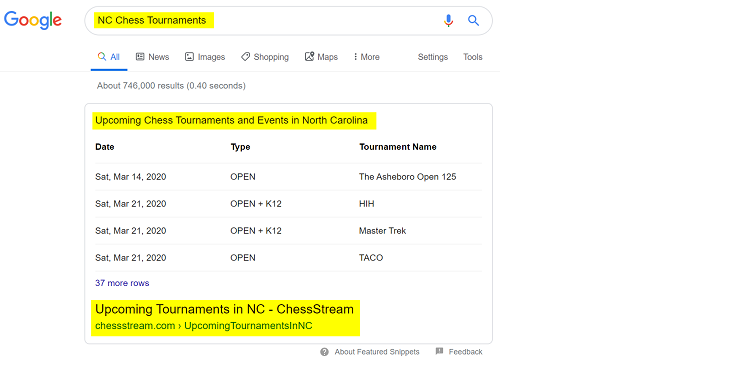 We have been watching keywords that coming from Google, and this is how most users in North Carolina lookup their upcoming tournaments.
We have main resource data from NC Chess Org website, and if you have entered (submited) your tournament there, you do not need to do anything. ChessStream will pull the list and have it here. Making sure you submit long enough to make sure Google will index it. If you have not submit your tournament in NC Chess Org website, you are free to add it here. Please do not do double entry because it will show multiple entries in the list. What you have yo do is register an account in ChessStream (free), and send me email at chacha at chesstream dot com telling me that you want to add tournaments in the list. I will mark your account, so you can do it by your self. Please keep the list clean.
This screenshot showing how you add tournament in the list.
List of the tournaments: http://chessstream.com/UpcomingTournamentsInNC.aspx
After created an account and we added role to the account, you can see: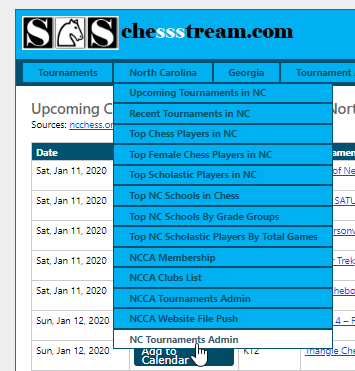 Then you will be added or updating your tournament list.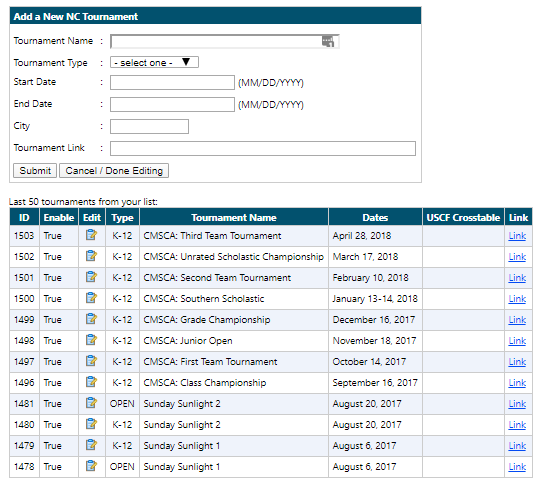 If you have any questions, please contact us.